Brisbane Airport Departures (BNE)
Not all flights may be showing. If not available use search above to find your flight by airline, airport or flight number.
Destination
Airline
Flight no.
Scheduled
Est./Actual
Status
Hong Kong (HKG)
Cathay Pacific
CX156 expand_more(5)
12:55
01:36
En-Route
Hong Kong (HKG)
British Airways
BA4146
12:55
01:36
En-Route
Hong Kong (HKG)
Finnair
AY5850
12:55
01:36
En-Route
Hong Kong (HKG)
Jet Linx Aviation
JL7906
12:55
01:36
En-Route
Hong Kong (HKG)
MIAT Mongolian Airlines
OM5632
12:55
01:36
En-Route
Hong Kong (HKG)
Qatar Airways
QR3467
12:55
01:36
En-Route
Sydney (SYD)
Qantas
QF7404
12:55
Unknown
Adelaide (ADL)
Qantas
QF7338
01:15
Unknown
Melbourne (MEL)
Qantas Freight
QF7305
01:45
01:44
En-Route
Adelaide (ADL)
Airwork
QF7384
02:15
02:31
En-Route
Rockhampton (ROK)
Pionair Australia
QF7421
02:35
02:52
En-Route
Dubai (DXB)
Emirates
EK431 expand_more(1)
02:50
03:04
En-Route
Dubai (DXB)
Qantas
QF8431
02:50
03:04
En-Route
No flight departures were found at Brisbane Airport.
Flight Departures at Brisbane Airport
The Domestic Terminal at Brisbane Airport is currently undergoing redevelopment, which won't be completed until late 2020. The International Terminal is connected to the Domestic one by orange Terminal Transfer Buses and Airtrains, which also link to Brisbane city. Transfers between terminals are free of charge. Both terminals offer passengers not only check-in and lounges where they can wait before their flights, but also shops, dining and refreshments. There are also four parking facilities within a short walk of the terminals.
Airlines serving Brisbane Airport include Qantas and Virgin Australia, Jetstart Airways, Tigerair, China Airlines, Emirates, Cathay Pacific and Fiji Airways – in total, there are 31 airlines, offering flights to ca 50 domestic and around 29 international destinations. At present, Brisbane Airport is being used by over 23 million passengers annually. This is expected to grow to around 50 million by 2035.
The International Terminal was built in 1995, boasting 14 bays with aerobridges, of which four can handle A380s. International Terminal has four levels. Level 3 contains departure lounges airside, Level 4 the departure hall and check-in desks.
The Domestic Terminal is a two-storey building with three satellite arms extending outwards to give passengers more lounges and airlines more gates. Flights leave daily to Rockhampton, Mount Isa, Sydney, Perth, Adelaide, Cairns and Melbourne, to name but a few domestic destinations.
Lounges, Shopping and Dining
At Departures the Lotte Duty Free Shopping area is located after passport control. Lounges include Singapore Airlines' Lounge on the Mezzanine Level at the International Terminal (after security, the Silverkris Lounge) and the Plaza Premium Lounge & Wellness Spa, also on the Mezzanine level.
Virgin Australia has a Lounge at the Domestic Terminal, Level 2, opposite Gate 41 (after security), and at the International Terminal on Level 3, near Gate 77, after security. Qantas, Air New Zealand and Emirates have Lounges at the International Terminal in Departures, near Gate 75, after security.
Shopping and dining can be found at both terminals, as well as the Skygate Centre. For example, the Nautilus seafood restaurant is located at Skygate. At the International Terminal there are choices like Hudsons Coffee house on Level 3, after security or Sushi Sushi, or passengers could try the snack bars and restaurants on Level 4 where the Virgin Food Court is located (also on Level 2 at the Domestic Terminal).
After redevelopment the Domestic Terminal will feature five new restaurants in The Food Collective, and will have a large retail section with brands like The Lord Lamington, Samsonite, Krispy Kreme, Oxford and Seeds by Bruno Loubet.
Currency
Over 60 different foreign currencies can be obtained at Travelex stores on Level 3 (after security) and Level 4 (before security).
Brisbane Airport Hotels
Leaving very early? Brisbane Airport hotels are not far! The Ibis Brisbane Airport is only 5 minutes from the Domestic Terminal, the Pullman Brisbane Airport Hotel is even closer. Novotel has 157 rooms that are within a short bus ride of Brisbane Airport's terminals.
Was your flight delayed or cancelled?
You may be eligible to receive up to 600 EUR compensation per person in your party..
Claim Now!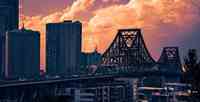 See Koalas, go wine tasting or go on safari - just a few ideas what to do when you visit Brisbane...